Award-winning startup gets funding – Instabeat product delivered worldwide soon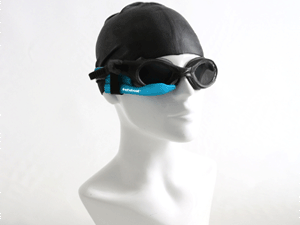 The Beirut-based startup Instabeat has acquired the 'Series A' round of investment to accelerate its growth. This marks the first time that company ownership is offered to external investors. 'Series A' funding is the first round of financing undergone for a new business venture after seed capital.
Instabeat is the name given to goggles equipped with a waterproof monitor that tracks, stores, and displays information about a swimmer's heart rate in real-time. The design of the device allows users to upload personal data to a computer via a USB port. The tool alerts the swimmer with LED lights in the corner of their goggles of whether they are performing in the fat-burning (blue) zone, mid-range (green), or maximum (red). Instabeat was recently named one of Forbes' Hottest Global Startups of 2013.
The funding was secured by Wamda Capital, Jabbar Internet Group, a Dubai-based corporation investing in Internet companies, and a group of Lebanese angel investors including: Georges Harik, Hala Fadel, Chairwoman of the MIT Enterprise Forum for the Pan-Arab Region (Lebanon), Sami Khoury, board member of Endeavour Lebanon, and Mutaz Sawwaf, a local business entrepreneur with projects focused on the Saudi market.
The startup has already started production and will start shipping within the coming few months, said Hind Hobeika, founder and CEO of Instabeat. Each unit costs $150, and the assembly is taking place in China, with electronics built in France and Ireland.
Instabeat will be disseminated on the international market, with a focus on the US and the European markets. "Even though Instabeat targets a niche market compared to the wide sports industry, we are relying great potential on our product," Hobeika said.
According to her, investors believed in the company itself and not in the product alone. "We will be working on developing several other products belonging to varied industries in the future," she said.
Berytech had already funded the startup with a seed funding of $100,000. The startup also managed to raise $75,000 on Indiegogo, an international crowd-funding platform. Hobeika won third place in the Stars of Science competition in 2010 and first in the MIT Arab Business Plan Competition, winning $50,000.
http://www.businessnews.com.lb/cms/Story/StoryDetails.aspx?ItemID=3719